Crisis Heroes: These Women Are Feeding Nurses While Supporting Washington Restaurants
Elena Tompkins was more than busy when the coronavirus crisis hit—she's a lobbyist for health-care companies and insurers. But one night she lay awake, restless and wondering how she could drum up business for a couple of restaurant-owner friends: "Literally, at 3 am, I was like, 'Hospitals!' "
The next morning, she e-mailed about 20 contacts, her friend Sarah Cannova among them, asking who wanted to go in on ordering lunch from Millie's for nurses at Sibley. Tompkins pooled enough money for 30 meals. The day after that, another e-mail blast raised cash for 85. Soon her Venmo account was blowing up with donations from total strangers, too. 
Tompkins launched Feed the Fight and brought on Cannova—former owner of Sassanova boutiques—to head up advance planning and help manage orders with restaurants including Jetties, Chaia, Chef Geoff's, and Cactus Cantina. They amassed a network of volunteer drivers, ranging from college kids to restaurateurs, to get the food to more than 6,000 nurses and medical staff at hospitals across the region. By April, Feed the Fight had raised money from more than 800 individual donors, supported 20 local businesses, and expanded its efforts to fire-and-rescue personnel.
Though Tompkins says the organization is now "in a groove," it's been a challenge to juggle the operation with her lobbying job. After a short TV piece about her aired, "my clients were like, 'Oh, wow, when did you find time to do that?' " she says, laughing. "Yeah, it's been a little nutty trying to balance. But not having to physically go to the office or to the Hill saves a lot of time."
And the extra hours are more than worth it. The women say the hospital staffers are often stunned with joy to see bags of lunch arrive,  while the restaurants are seeing more than a boost to their bottom line. "The feedback we're getting from the restaurant workers," says Tompkins, "is that it means a lot, knowing they have a purpose." 
Source: Washingtonian
---
José Andrés Helps the Nats turn Stadium Into a Community Kitchen
The Washington Nationals have teamed up with chef José Andrés's global nonprofit to utilize D.C.'s empty professional baseball stadium as a place to cook and distribute thousands of free meals to residents in need during the novel coronavirus crisis.
Under its city-owned lease, Nationals Park is supposed to be used for sports and entertainment only, but the city signed off on a plan led by World Central Kitchen and the team's newly established charity arm, Nationals Philanthropies (formerly the Dream Foundation).
Two large kitchens at the park will be used to prepare hot meals that will be delivered to communities by Uber Eats drivers. One facility is typically reserved for suites, catering, and concessions. The other, PNC Diamond Club kitchen, normally makes food for big-ticket fans. It's outfitted with six-burner ranges and all the culinary bells and whistles.
Nationals Philanthropies will work with its community partners to get dinners to public housing in the Navy Yard and Southwest Waterfront neighborhoods as well as the Nationals Youth Baseball Academy in Fort Dupont. The recipient list is expected to grow with the help of Southwest BID, along with people in underserved Ward 7 and Ward 8, and homeless populations from around the city.
"We are stewards of this public building — it's not used to play baseball now, so how can we use it in the best way possible?" says Jonathan Stahl, vice president of experience and hospitality for the Nationals.
The first 1,000 meals go out today. By the end of the week, production is expected to ramp up to 5,000 meals a day. Eventually, the operation at Nationals Park aims to dish out tens of thousands of meals each day.
From 7 a.m. to 6 p.m. daily, staff perform a choreographed dance of prepping, cooking, and packaging meals into insulated containers, along with wrapped utensils and fruit, that will then go to drivers waiting at a loading dock. Nationals Park employees, partners from concessions company Levy, and WCK staff and volunteers all collaborate. Food and packaging shipments roll in from large vendors like Sysco and Acme Paper.
WCK's Penn Quarter headquarters have been used to prep meals until now. The nonprofit approached the Nationals about a week ago, pitching the idea to use the stadium as a community kitchen to meet the growing demand in the region. The stadium is uniquely suited to perform large-scale food production, and it's located in the heart of an at-risk community that could benefit from the meals.
"Partnering with WCK was a no-brainer," Stahl says. "Our operations here are consolidated — we have very large kitchens and a lot of fire power where we can produce a lot of food quickly and efficiently."
Tuesday's meal is a chicken and broccoli stir-fry with cilantro rice and toasted sesame. Later this week, people will get a plate of beef fajitas with roasted peppers and onions, garlic rice, and black beans.
Nationals Philanthropies seeded a new $100,000 fund to provide grants to third party entities equipped to feed need during the current crisis. So far, it's contributed $25,000 to Mid-Atlantic Food Access and Resilience Coalition, led by 4P Foods, and $15,000 to Martha's Table. Donations from fans, corporations, foundations, and Nationals personnel and players are pouring in fast. As of Monday, the fund hit $256,000.
WCK is a well-oiled machine when it comes to feeding the masses, starting with Hurricane Maria victims in 2017 — a feat documented in Andrés's book We Fed an Island: The True Story of Rebuilding Puerto Rico, One Meal at a Time.
Stahl says Andrés has been a regular presence at the park to ensure "everything is done to the specifics of WCK."
When the coronavirus hit, Andrés's WCK team reacted quickly. In addition making meals for passengers and crew quarantined on cruise ships and donating food to D.C. firefighters, the humanitarian chef just pledged free meals to nurses and doctors for the rest of the year via his NYC and D.C. restaurants. WCK is also one of the initial partners for America's Food Fund, a GoFundMe account that launched with $12 million in contributions from Leonardo DiCaprio, Laurene Powell Jobs and Apple, and the Ford Foundation.
Major League Baseball has delayed Opening Day, originally set for March 26, to at least mid-May. The league is exploring options to save the season with the players' association this week. That includes potentially moving every team to Arizona and playing games in empty ballparks.
SOURCE: DC Eater
---
Where to Find DC-Made Hand Sanitizer
Pretty much every DC distillery (plus at least one coffee roastery) has expanded its lineup from gin, whiskey, and rum to hand sanitizer amid nationwide shortages. The bulk of the product is being sold to local government for frontline workers or donated to healthcare professions, nonprofits, and other groups in need. However, the general public can also snag some bottles. Here's how:
Compass Coffee
Multiple locations
Find 16-ounce bottles of "Simple Sanitizer" at all Union Kitchen Grocery locations for $14.99 each. You can also stop by Compass Coffee's shop at 1535 7th St., NW to fill your own bottle for a 25-percent discount.
Cotton & Reed
1330 5th St., NE
Sanitizer is available at the distillery only, Wednesday through Sunday from noon to 7 PM. A free 2-ounce bottle comes with the purchase of rum, but you can also buy the smaller bottles for $4.50 each or 16-ounce bottles for $16. Limit of two each per person.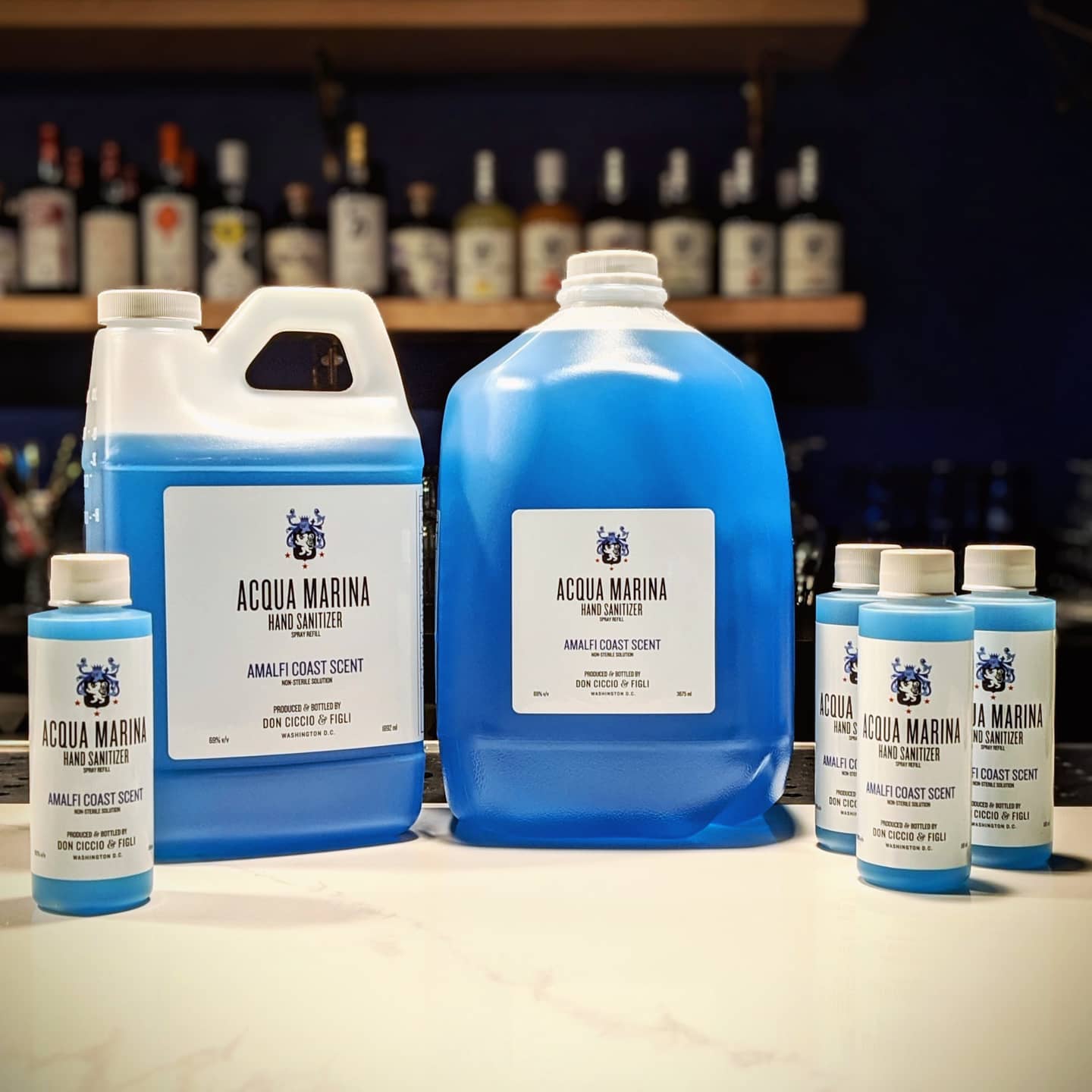 Don Ciccio & Figli
1907 Fairview Ave., NE
The Italian-style liqueur and amaro producer is making a hand sanitizer dubbed "Acqua Marina" with "Amalfi Coast scent." It's available in six different sizes—from 4-ounces for $5.50 to one gallon for $145. Pickup and delivery is available Monday through Friday from 10 AM to 4 PM and Saturday from 2 PM to 6 PM.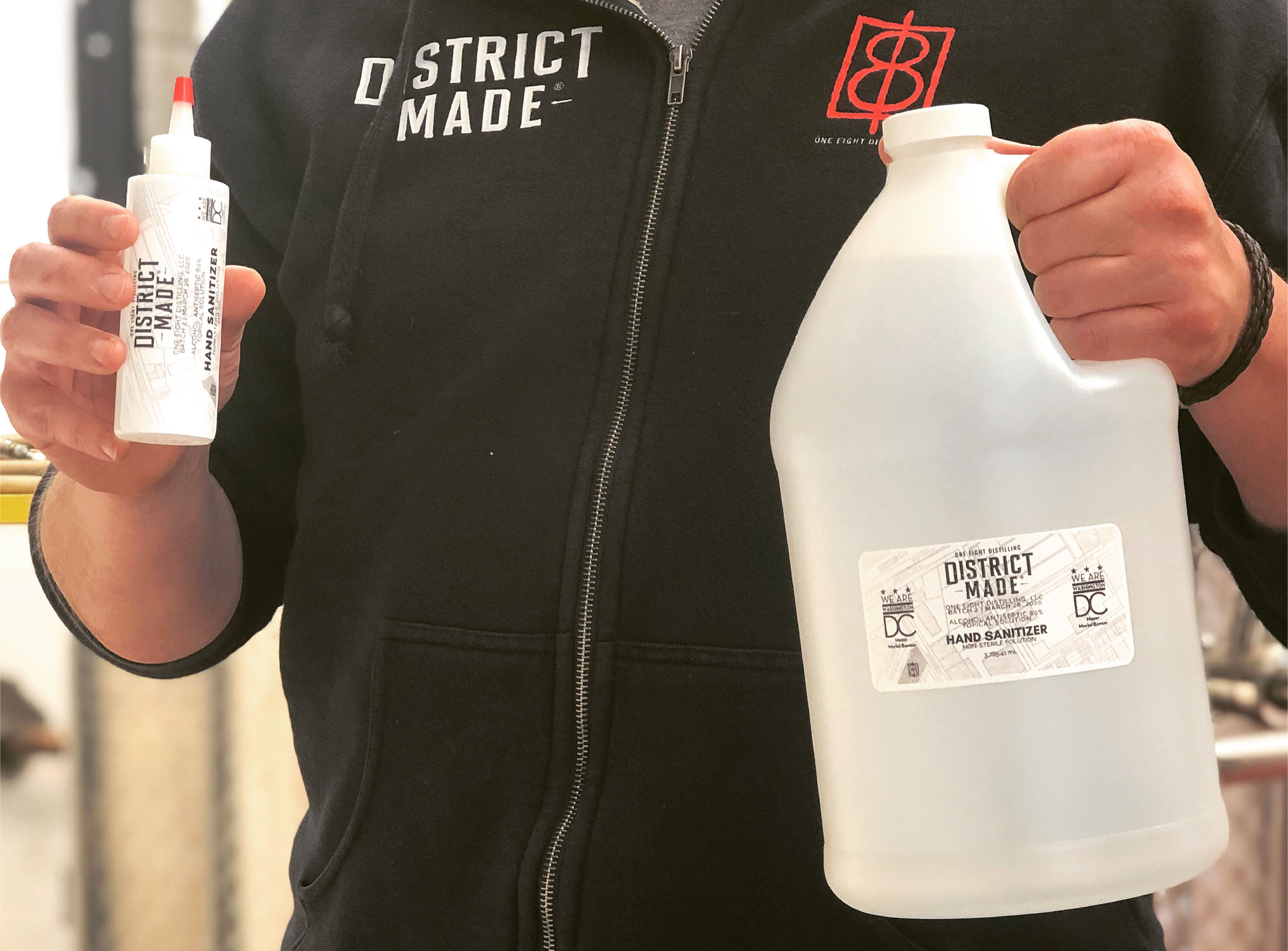 One Eight Distilling
1135 Okie St., NE
This Ivy City distillery has made hand sanitizer out of beer kegs from DC Brau and what was originally going to apple brandy from Anxo Cidery. Get free sanitizer with every order from the online shop (where everything is is 15-percent off). You can also preorder a 4-ounce bottle for $5.30 or a gallon for $90.40. Pickup available at the distillery or at the Dupont Circle FreshFarm Market on Sundays.
Founding Spirits
Multiple locations
The group behind Founding Farmers is temporarily out of its hand sanitizer produced at Farmers & Distillers in DC, but a new batch is coming soon. Look for two-ounce bottles from their online marketplace for $4 and 750 mL (refillable) bottles for $20. Limit one bottle per person.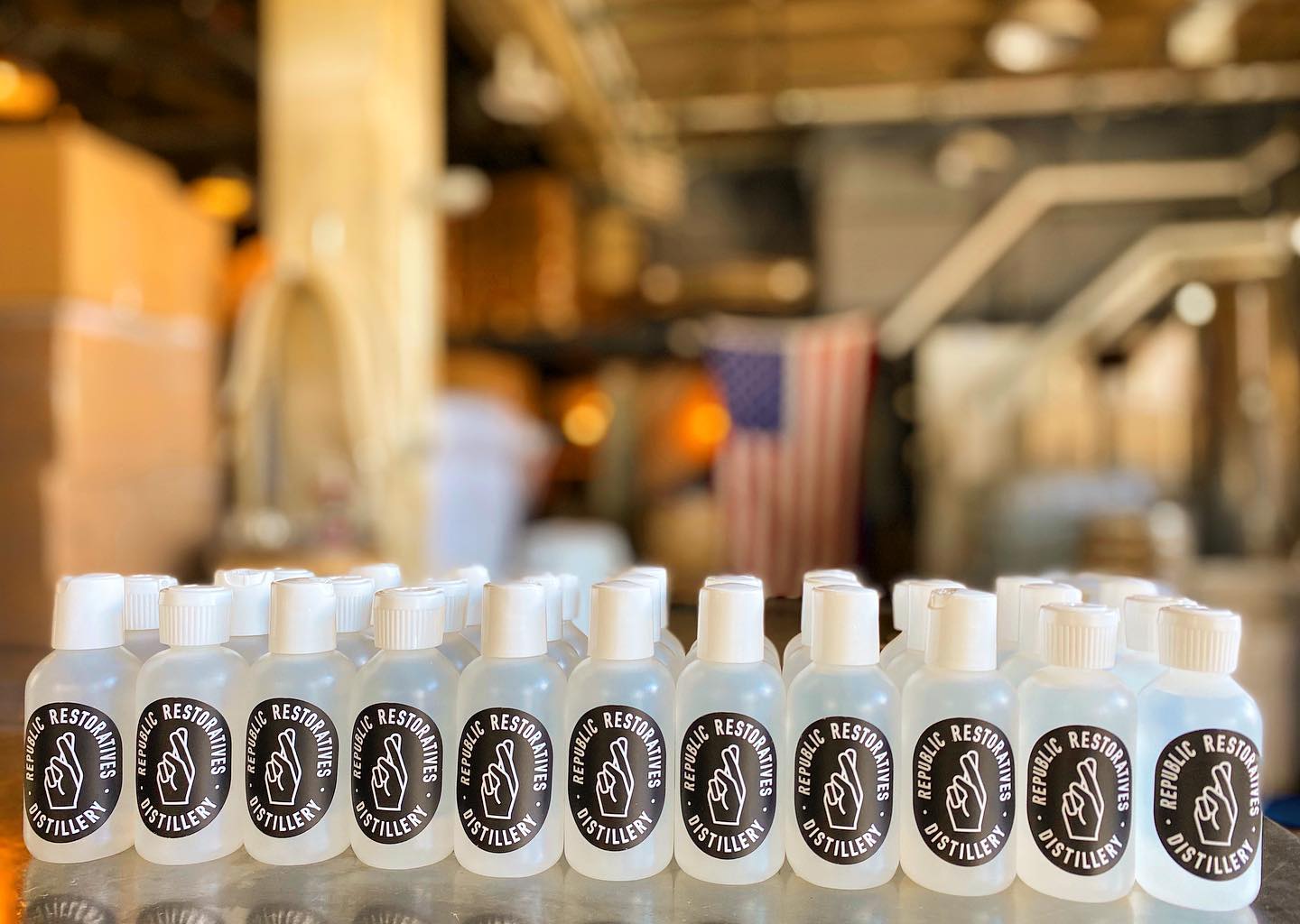 Republic Restoratives
1369 New York Ave., NE
Buy a bottle of booze, and get a two-ounce hand sanitizer for free. Order online for pickup or same-day delivery.
SOURCE: Washingtonian