The world's most innovative luxury RV is delivered directly to your home.
With the most successful pre-launch to date, the Bowlus Terra Firma is the latest offering from the luxury RV company. Targeting modern adventurers, nomads, and camping enthusiasts with their sustainable designs, Bowlus uses high-quality materials, crafting each vehicle with a meticulous eye for detail.
Meticulously built by hand in California, each Bowlus combines supreme comfort with maximum performance. With a history dating back nearly 90 years, the first aluminum riveted travel trailer was completed in 1934, designed by Engineer Hawley Bowlus.
Fast forward to the present day, and CEO Geneva Long has pushed the enterprise forward, creating a vintage look fused with modern technology, capable of transporting people between destinations in style and with ease.
Geneva Long has also achieved many industry firsts for the business: An RV with heated floors and life-work solutions such as charging stations and wifi, a direct-to-consumer model with sales generated completely online, and a pioneering lithium-powered vehicle with advanced power management systems.
2021 Bowlus Terra Firma is the latest offering from the California-based luxury RV company
Luxury RV with the greatest attention to detail
Today, Bowlus offers a genuinely sustainable RV, sourcing from suppliers who share their vision. The result? An ultra-luxury, eco-conscious vehicle that's customizable and handcrafted with care.
Seeking to travel on their terms, customers choose Bowlus as a luxurious, safe, pet-friendly option that's uber comfy. Jump in and visit National Parks or discover secluded domestic hotspots.
But way more than that, Bowlus owners increasingly see their luxe RV as the only way to travel from A to B, be it to see friends and family or explore.
The limited-edition aluminum Bowlus Terra Firma has you covered for all and every journey type.
Bowlus is an ultra-luxury, genuinely sustainable RV that's customizable and handcrafted with care
Flexible design
Designed and released in response to people's varying needs, one of Terra Firma's key concepts is what they call a 'flexible environment', allowing owners to adapt the upscale RV to their personal requirements, be it a thrill-seeking adventure or a getaway into the desert.
Based on the Endless Highways Performance Edition, Terra Firma boasts ​two massive skylights in the main cabin and an outdoor cooking setup with electrical and propane outlets as standard.
The added bonus? The latter provides an emergency micro-charge, should your electric car need it. Back inside, the modern galley kitchen features stainless steel counters and offers plenty of space.
Color and detail-wise, it's all about enveloping owners with a feeling of ultra-comfort. With that in mind, the interior vibe is relaxed, decked out with two types of wood and warm shades such as 'Field,' with accents of 'Open Sky.'
Sleeping four, there's an upscale hotel-style ensuite bathroom with teak finishing and Italian marine-grade fixtures, and a spacious stateroom with top-quality flooring, striped duvets, and opulent headboards – convertible from a king into twins, depending on preference.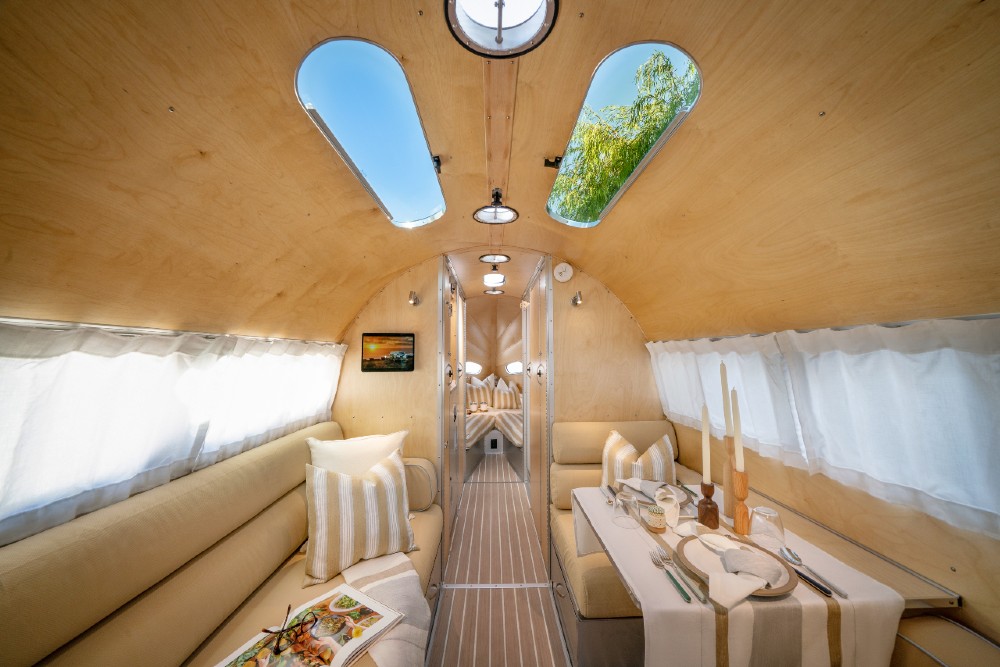 Terra Firma's key concept is a 'flexible environment', allowing owners to adapt the upscale RV to their personal requirements. 
View Listing
User-centric technology
What's more, the Terra Firma boasts super safe road handling, and weighs less than 3,200 pounds, meaning towing is possible with the widest variety of luxury crossovers and SUVs, as well as electric vehicles.
Featuring tons of enhancements such as complex air and water filtration systems, a smart brake controller,  'Find My Bowlus' GPS tracking, 60-Second Hitch capabilities, and mega-plush interiors, the model also welcomes pets on board. Your pooch will feel at home with 'Pet-Flex,' including remote temperature monitoring, bowls that slide out from a drawer, and a personalized canine bed.
With a focus on user-centric technology that improves owners' lives, the Terra Firma was devised with a motion-sensing accelerometer providing highly responsive, smooth braking.
The user-intuitive touch-screen power management system is connected via Bluetooth and the internet and is easily managed remotely, with adjustments accessible via smartphone.
HEPA air filters, UVC lighting for disinfecting, and a freshwater filtration system for confidence and peace of mind also comprise the spec of this innovative RV.
Building on the incredible battery power of the Bowlus Endless Highways Performance Edition by two times, Terra Firma enables travelers to live off-grid for two weeks. The impressive system charges in just three to four hours and includes heated floors for all-weather four-seasons comfort.
Bespoke customization program
Owners of a Terra Firma can choose from two bespoke customization options, should they wish. With each program, customers can custom tailor their RV – over fifty-six million interior design combinations are possible.
Every Bowlus is hand-built and delivered directly to you. The Bowlus Terra Firma starts at $265,000 and the Bowlus Endless Highways Performance Edition starts at $240,000.
Bowlus Bespoke Customization Program offers over fifty-six million interior design combinations